I've seen the Lake Suwa car show from last year and since it is close to a few of their homes, they seem to gather here. I had to choose between Bee Mar/ 80's Hero at Fuji Speedway or Lake Suwa. I decided to go to Lake Suwa because I saw some really nice cars last year. I was not disappointed!
Nothing wrong with the 80s Hero and I think there was an equally awesome turnout. With Lake Suwa, there was this classic car feel. Very little stance cars, but a ton of super interesting cars that I feel are not as prominent in other shows.
Anyways, Lake Suwa Festival is a charity event. So you pay what you can. I feel I would have paid $15 at a normal car show, so for this event, I paid $20 or 2000 yen.
Off the bat, the F31 group came in huge, which I will make its own post. But The R30, R32 and R33 Skylines were also deep in numbers. Some cars I've never seen in person, which sparked my interest and I spent a good chunk of the show just going around taking pictures of every car. I even went to the parking lot a few times to catch some nice cars out there.
I made a separate post for F31, Leopards and brothers from this event.
Additionally, since it is a charity event, there seems a portion of this event was also letting kids have rides or control levers for construction vehicles and trucks. There was a Lamborghini there and gave kids rides going back and forth in the building!
I arrived and met with Sugiyama-san as he took me to the show.
1st batch were a group of Rally and track race enthusiasts, Mad house Auto Sports Club.
Nissan Stanza
R34 Skyline and parts/toys display
Toyota Crown
Soarer (there were a few!)
Mazda Familia!!! aka 323 AWD
This group was cool to see. Civic and Integra type R and SiR EG6 with Backyard special stuff!
Subaru Vivio T top GX-T (supercharged)
Mazda Carol Deluxe
Suzuki Carry
Toyota Corolla Wagon
Subaru R2
Toyota Cresta Super Lucent
Older Toyota Hiace, but look at that swap!!! Whoa!!!!
Toyota Altezza Gita/ Wagon
Toyota Wagon, rusted out!!! but look at that engine bay and BEAMS motor!!
Toyota Carina
Celica XX
Nissan Sunny with a S2000 swap!!!
Mitsubishi Debonair!!!
Toyota Levin, Rally
Toyota Carin
Toyota Comfort Taxi!!!
Nissan truck… look at that swap.
Toyota Cresta Exceed
Nissan Cedric (blurry front end pic deleted!!)
Toyota Cresta
Porsche 914
Honda Today
Nissan Fairlady Z
Toyota corolla 86s
Toyota Soarer owner's group
SA22 RX7 track car!!!
Mazda Cosmo (there were 2)
Mitsubishi Lancer Evolution
Mazda FD RX-7
Clean Mazda FC RX-7 and Rally RX8
At this point, I had just to get something to eat. It was intense taking tons of pictures and with people around. As you can see in my pictures, I try to get the small details of parts on cars that I find really interesting or that I have never seen before.
There was a small food section that had their own food vehicles.
I couldn't believe my eyes when I saw this Taco truck. It was made in Stockton and it is exactly like the ones here in the bay area as far as design goes!!
Ogawara-san bought me some Ramen!
I went outside to check out the parking lot (ton of cool cars too) Anytime a cool car pulled up, I asked owners if it was okay to take pictures and they gave me the thumbs up.
Team Shouwakai
Parking lot part 1.
After that quick parking lot break, I went back inside and started taking pictures of the show cars again.
Nissan President Sovereign VIP
Skyline
This group of Fairlady Zs were near the front stage (there was another group on the other side of the building).
Toyota Corolla
Toyota Sprinter
Mitsubishi Minicab
Nissan Cedric Special
Nissan Prince 6… NEVER THOUGHT I'D SEE ONE IN LIFE!!!
Datsun 1000… even has a hand crank!!!!
WOW!!!!
I've seen 4 Toyota 2000GTs in my life (Toyota Automobile Museum, Petersen's Automotive Museum, and Pebble Beach Japanese Automotive Invitation), this is my 5th one and it is Red!!
Toyota Sports 800
Corvair is cool, and older Mustang
Newer model cars on display
A small group of Toyota MR-2s (next to our Leopard group)
Subaru 360
Old school Honda!!!
Isuzu 117 Coupe
Another Toyota Sports 800
Suzuki Carry… like the first one!!!! Look at the seat in the bed!!!
Mitsubishi Galant Colt. One picture is blurry because I didn't realize the owner was inside! He gave me the okay as I bowed to say sorry.
Datsun U620 – U for utility version (*credit to Wasabi Cars Dan for identification!!!)
Datsun Wagon
Datsun Roadster
Toyota Publica
Toyota Corolla Levin (*credit to Wasabi Cars Dan for identification!!!)
Isuzu Bellet GTR
Toyota Celica
Nissan Silvia
Isuzu Bellet
Honda Prelude
Exotics and European.
Line up shots.
Nissan Gloria
Toyota Crown
A couple more 86s
Initial D, FD RX7
3 Skylines in this group (R32 and R33)
Line ups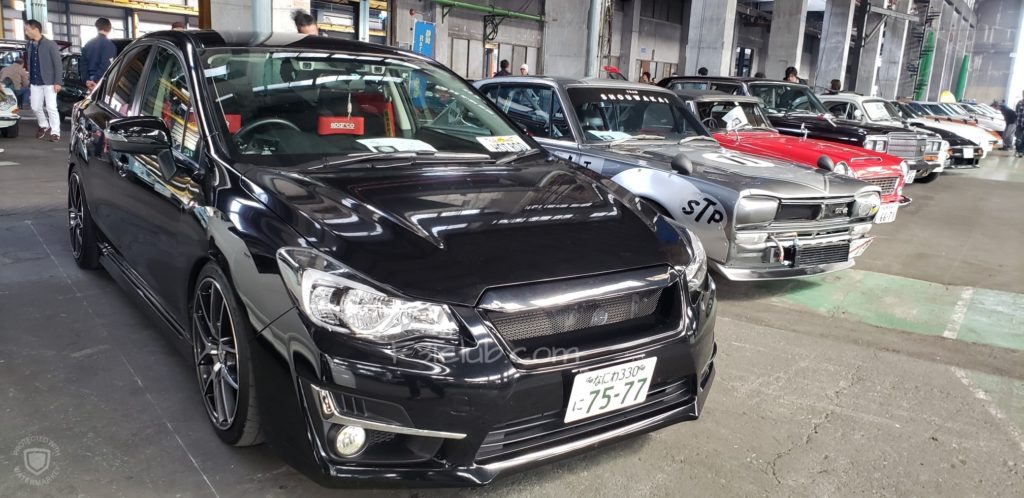 Line up and Skyline!!!
Another Datsun Roadster!
Another Nissan President Sovereign!!!
Nissan Fairlady Z, 200ZR
Honda S2000
Fairlady Z group, Reckless
another 86 and a cool roadster.
Toyota AW11 MR2! Like my old one…
Another clean Fairlady Z!!!
Calsonic Nissan R32 Skyline
I decided to check out a vendor that had wheels on display. He had some cool items and keys, so I bought a few things. Random cars that were at the show, but not participating.
Beginning of the R32 and R33 group. They had some cool cars. I mean, Skylines… come on!.
I had to separate these pictures… HKS R32 Skyline Zero R!!!!
Rest of the Skylines in this group!
A31 Cefiro!!! (My first love!!!) So I gotta do a selfie with my ugly mug with a Cefiro!
2 Toyota Starlets!!!
Toyota Carina
Mazda Porter
Mazda Cosmo #2
Another Fairlady Z
Skyline! Ossan!!!
Honda LN360 – Whoa!!!
Mitsubishi Colt GTO
Fairlady 2000 roadster
Datsun Bluebird SSS coupe
Suzuki Jimny
Daihatsu Fellow Max
This group of Skylines were set up next to the Leopard set ups.
Went back to the parking lot and took more pictures
Pretty awesome car show. I mean I've seen older cars on display in museums… but this was crazy and better IMO.