In my previous post, I was mentioning that I was content with my M30s being stock with some JDM aesthetics. There was a shift in 2019 and that was only because OPPORTUNITIES arose.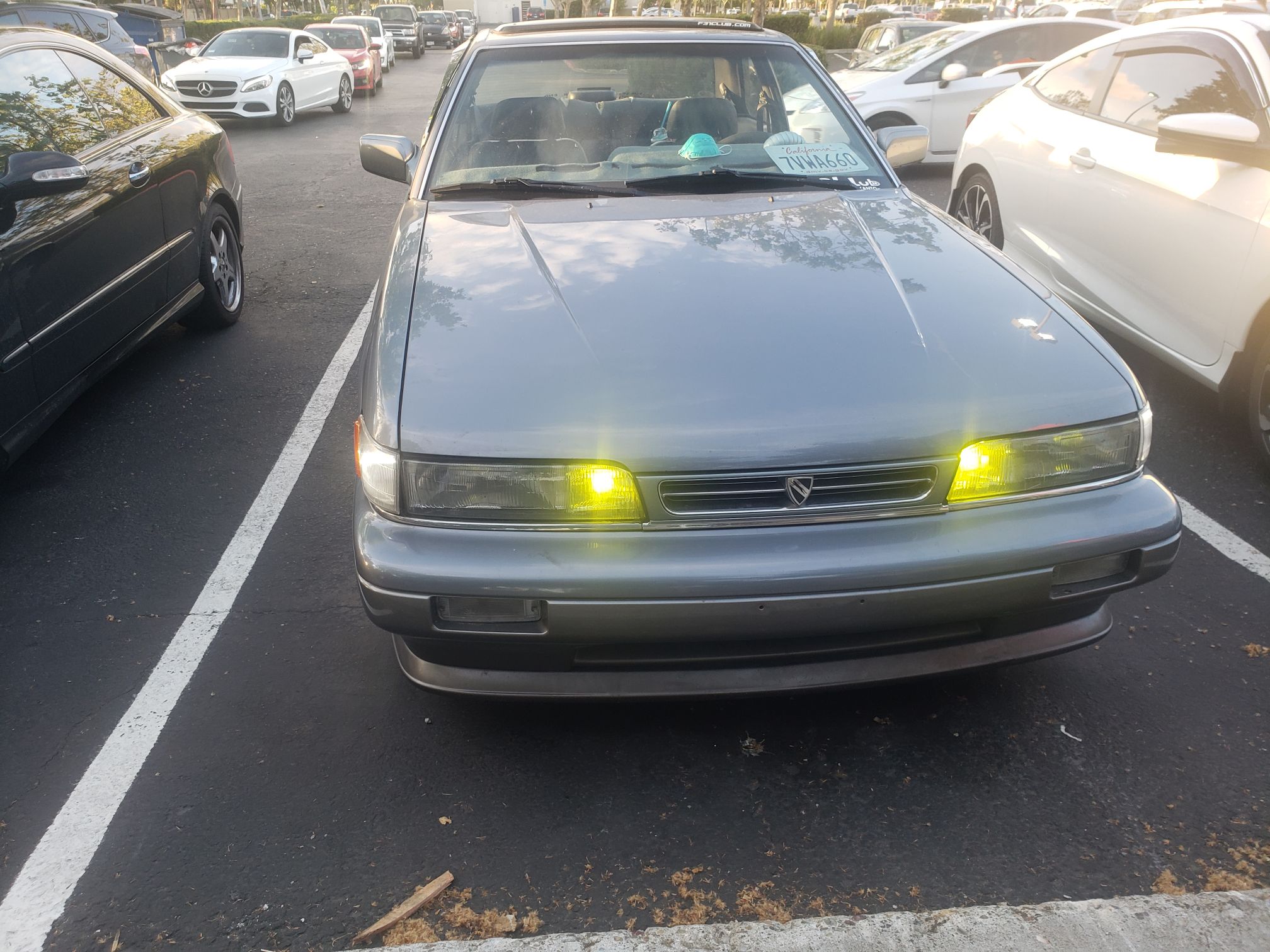 ---
With foreigner mentality, we typically try to do everything with one car. It makes economical sense. As with anything that you start to go in depth with, sometimes you realize it is a lot and you have to separate. I think some drifters know this as I've noticed people are starting to have dedicated drift cars for events and practice.
We can do this with ideology as well. In 2019… there was a massive shift in my ideology. This is the sequence of events.
---
Zenki Leopard front (original plan)
Itabashi-san said he would help me get parts for a zenki front end conversion for my M30. I was super excited about that. I could retain a simple look, just with a zenki front end. I started to gather parts in late 2018. In 2019, I went to Japan and visited Itabashi-san's house. He showed me the parts and we were trying to figure how to get the parts to Osaka (where it would be transporting to the US). After a few months of waiting, it finally arrived in the summer of 2019!
Ideology –  the zenki leopard front end has always been an idea since people were doing front clip swaps in the 2000s. It's just no one was able to get a leopard clip for some reason. To get the parts and put have the idea of them on my Blue M30 was ideal! It would look really cool and be the 1st in the US. I was just trying to get the last piece, the hood. Even the digital gauge cluster in an M30 was an idea/dream back in the days. Itabashi-san had already done it!!!
---
F31 Kaido Racer parts
An F31 Kaido racer was something I really wanted to see for a personal milestone. When I found out that Noguchi-san in Nagasaki made a Kaido racer out of a Nissan Leopard, I told him I would love to see it. My first attempt failed as I didn't realize it was very far and my schedule wouldn't make it.
May 2019, the same trip I went to Itabashi-san's house, I planned properly and Noguchi-san was able to take me to where the Leopard Kaido Racer was. As I said, this was a goal to see the car really. Kaido racers, especially a platform that isn't typically used such as this leopard, was all custom made. It took Noguchi-san 3 months to finish this car (he is a very fast worker!).
I asked, "what is gonna happen to this Leopard", Noguchi-san said, "cannot pass shakken, it will be crushed!". I was in utter shock. And something inside me had to ask…"Would it be okay if I have the parts?" He replied, "You can have the parts". I couldn't believe it… I have loved Kaido Racers for a long time and to see one build with an F31 was a goal.. but to have the parts and build a kaido racer… that is something I never even FATHOMED!
Along the lines of Kaido Racer, my brother Suenaga-san said he would support a Kaido Racer build. Which he also has given me parts and history (I always ask for questions).
In February 2020, I met with Noguchi-san again and asked about the parts and he said okay, but wanted to know about transporting the parts. Which I am working on. The car is owned by someone else and I don't know when that person will give up the car/parts as shakken is due. Domestic transportation companies don't like to carry items that are out of dimension. These are my barriers in actually securing these parts.
Ideology – Most foreigners don't really get the idea of a kaido racer. Most simply see Takeyari pipes shaped into stars or hearts and try to do it to their cars. I also didn't want to appropriate this style/subculture without understanding it. I always believe in lineage and history as a foundation. I also believe in giving credit. When I get the parts here, I will have to put Noguchi-san's business in some way, shape or form, on the car. I also offered to pay for his trip to the US if I showed the car at an event. With that said, I would have to get another car for these parts. I don't want to blend styles or ideology into one car as foreigners typically do. I would build this strictly as a Kaido Racer.
At this point, it was about SAVING the Leopard Kaido Racer parts. (Hopefully I can).
---
Project Leopard ownership/restomod
Around June/July of 2019, Jon R (who picked up Project Leopard) said he couldn't continue the project and offered me the car. I wasn't sure what to do with it, but the conversation ended with me agreeing to get it by the end of 2019. At that time, it was just an agreement and I didn't know what know to do with the car. I was also looking to buy a house, so I thought I would possibly have a place to take it apart. The house ownership fell through. I still agreed to get the car and have been excited about it. Once it was set to return to the SR20 store and the whole car would be rebuilt, I realized how amazing the story will be. Rebuilding a magazine car is one thing, rebuilding to be better and new is another. Like many cars from this era, it fell into rough condition and abuse. Typically these cars get parted out and junked. Saving this car was taught me a lot. Rebuilding with resources (SR20 store, Phase2 Motortrend, B3) and friends (shout out to Roger V, Edrik, Hung P, Greg and Chuck S) has been an adventure in itself. The RB25det is being rebuilt with upgraded parts, interior is being redone and exterior is also being worked on and going to be repainted.
Ideology – It was about SAVING THIS CAR. When it was told to other people about this car, everyone was saying, "put the kaido racer parts on it". While that thought did cross my mind for a second, I realized that it would be blending a sporty car and a Kaido racer.. which typically doesn't happen. Kaido Racers didn't really try to get high horsepower built motors. So I realized that I would have to keep this separate. This made me realize that all the parts I have been collecting, why not put it on this car as Project Leopard would get more attention than a stock M30. The zenki front end is now dedicated to this car.
This is a TRUE Restomod rebuild.
---
VIP M30 with Diana kit
In late 2019, I was excited about the Kaido racer news. I then had this dream/vision/idea of what rolling into a car show with a VIP and Kaido racer styles built with the F31 platform. It has caused me to lose concentration and sleep because the idea excited me! The VIP thought would be the Diana kit. But there was none available, so I thought about getting a Y31 kit and cutting it up.
My Japan trip in February 2020, yielded to be something interesting. I went to secure the zenki hood (or fragment of a hood) for Project Leopard. I was also on my way to secure the Kaido Racer parts from Noguchi-san (from Nagasaki). One of my traditions when I go out that way is to visit my brother in Takamatsu (coincidentally, also named Noguchi-san). While having dinner, he shows me pictures of a Leopard with a FULL Diana kit! I was in absolute shock! This is THE Diana Kit… and it had EVERYTHING!!! After some back and forth with the owner, I eventually secured the whole kit. Diana kit has been a universal goal since F31club was founded. It was the huge driving force for getting an M30 and even that.. people wanted to make a "drift VIP car".
Ideology – As I said, this kit was something I've wanted and honestly, being discontinued since 2001, I never even thought it was possible to own. It really throw my plans into hyperdrive and wanting to see it state side. Just like the Kaido Racer build, the VIP build has to be on it's own. Some people said it would be cool to see the Diana kit on Project Leopard… and while it would be cool to see this type of build (typically foreigner) and combining all these components to be one crazy M30, but it wouldn't be proper. I want to follow old 90s VIP tuning. This was about Japanese V8s with AT. There was also a mystique to 90s VIP which is what intrigued me about the VIP cars.
At first I was going to try and find a black and grey M30 for this build (and I still might), but after much thought, I decided to use this on my Blue Grey M30.
---
Zenki Leopard Goal
My trips to Japan have given me a better understanding of F31s as far as ownership and tuning. I was so fascinated with the zenki F31 leopard because it was a completely different car in my eyes. There have been 2 (kouki) leopards that have been imported to the US. People often ask me why don't I go after one. My goal has always been a Zenki leopard. This generation of the F31 Leopard is highly sought and isn't always available or if it is available in private sales, often times there is no paperwork.
February 2020 trip was interesting because as I was securing the final piece for the zenki front end to work (hood cut), there was a Blue Zenki leopard at N Style Customs. Itabashi and Ogawara-san said I should negotiate a deal to buy it. While it wasn't in super rough condition, it was all there and even the original owner stopped by. After talking with Nagahama-san, I offered to buy the leopard off him if he didn't want it and he said "ok!"
Ideology – To get a Zenki Leopard, I would absolutely keep it clean and simple. They look amazing as is. This particular zenki is an XS-II Grand Selection.. so it is pretty nice! If I had it my way, I would have the engine (rebuilt or refresh) and transmission before it came state side. That way I can just drive it afterwards. I like to address the issues while it is in Japan with parts available there compared to the US.
I still have negotiate everything and that doesn't mean I will own it. It still depends if Nagahama-san will sell it.
---
M30 Convertible
My vert has been chilling in Canada, luckily with no issues. I wanted to get the car done, but just been caught up with all Project leopard, then the parts sitting in Japan.. While I do love this car and it is special because it was gifted to me by Jim, Itabashi-san really wants it. Typically I don't give up gifts, but I wouldn't mind Jim and Itabashi-san connecting. With the people I am closest with, I want them to make a connection with each other to build a better community.
Ideology – I want to rebuild this car, but I also want Itabashi-san to have a vert. He said he wanted this car if possible and he would fix the condition. I will see what I can do once COVID19 restrictions relax between Canada and US. Then I'll make my way to the PNW/CSW and figure a game plan out.
I personally love the convertible and this is my 1st one. I can imagine having the top down and going for a cruise in one here in California.
---
CONCLUSION
With Project Leopard being rebuilt, it will be an one off build in the US. Zenki front end, RB25det, repainted, interior redone with digital gauge cluster.
I can't stop thinking about a VIP and Kaido Racer next to each other. Also if era correct and done right.. they will look amazing and stand out.
What is funny is that my current M30s are typically stock and now that opportunities come up to chase my favorite styles (JDM, VIP and Kaido Racer) it begs me to build M30s that are different. The reason why I've identified with M30s is because I love their obscurity. They get noticed and people have them temporarily… but for someone like me, it is a car I can identify with.
The other side of me is that I can be an extremist. I usually take an different route than most of the crowd and I don't attach to any scene or community in general. This leaves me to be slightly isolated and my mind starts setting goals. I start thinking how I would execute the ideas in order to reach those intended goals. Obviously, thinking in this manner will always put you in a different class.
Note – Kaido Racer parts and Blue Zenki are not definitive. I'm having transportation issues with the Kaido Racer parts and the blue zenki isn't 100%.