It is time to brainstorm some of the ideas. I generally brainstorm a bit, but with being preoccupied with Project Leopard being built on various levels, I haven't really sat down to write out the ideas.
Before I can start on this M30… I need to make sure it is solid. Running smooth, suspension done right, everything working. Then I can focus on the aesthetics.
---
Diana kit is on the way from Japan.
I decided to use my blue grey storm M30 to be the VIP build. I initially wanted to get a black M30 and do the traditional colors of black over grey. It is classic VIP IMO. I think I will do that eventually.
When I look at the Insurance group F31 demo car, it seems perfect:
Here is a picture of a black leopard, but the picture is old and maybe how it is captured, the Diana kit lines are not well seen. It could also be the color too.
The most infamous Leopard with the Diana kit was this Pink leopard. It was part of Club Non Sect and built by Daisuke Shoten, a kaido racer tuner. He was part of their team and modified the front bumper.
---
Being that Junction Produce is really one of the most iconic VIP builders, It would have to get some of the items like the FUSA and the hood emblem. I'll get more into that later as I've been talking with Taketomi-san.
---
The basic lighting – The corner lamps on F31s are "side marker lights". They are not turn signals. The bumper light is the turn signal.
I would like to do alternating bumper lamp and corner lamp turn signal.
The Diana kit bumper lens is both turn signal and fog light.
I always feel VIP cars have to have small aesthetics that make them stand out. Fender markers are one of those things.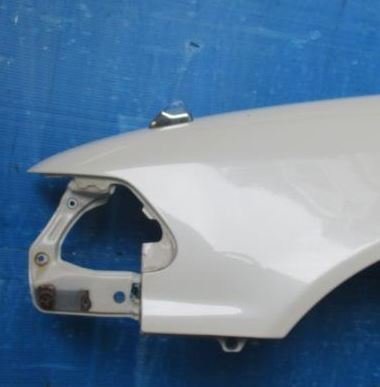 Since I have an extra set of Leopard headlights… I wanted to follow Daisuke Shoten's F31 build (Pink Leopard). The build was the first many of us have seen with the Diana kit on. When I started to ask about the car on my travels to Japan, Suenaga-san gave me the background on the car.
When you start to look at this car, you start to see those small details.
Club NonSect was one of the Leopard owner's clubs that were into a wilder style of building an F31. It is like Kaido racer, shakotan and even VIP style. The pink F31 was more a VIP build with customizing the front bumper a bit more.
My link to Club Non Sect
---
I do plan to test fit the kit just to see how it looks (I've been DREAMING of this) and do a couple of night shots before jumping on refurbishing everything! The other idea was getting intersection lights.
---
My honest opinion, you have to go with some 18″ Chrome wheels, which I would probably roll with some Lowenharts or Works. But I want that old skool VIP look.  I am a fan of flush and not super tucking. So I don't want to drop too low. Just cruising height because that was the era I came up in.
---
Interior
Since I have additional Dash bezels, i want to dress it up a bit. The original dash kits of wood are super cool.. the subsequent companies that made wood dash kits used screws…
So I've been thinking of ideas of what to do. One Idea was fiberglass the areas and then just use those pieces to get painted. So I think that is important. I wanted wood grain, but I remember something from Carshop Friend's / Club Treasure's M30:
---
I will follow the 90s style of VIP with curtains… but I was at the junkyard looking at I30s, I35s and also an M45! Looking at what I could use.. I decided to grab a few things.
Out of the M45 – I grabbed the analog clock.. which looks really cool. In the back seats above each passenger is a light and coat hanger.. I thought it was a neat piece. So I grabbed everything including the bracket to fix it to the body (probably some tack welds to put in place.
The clock doesn't fit, but I've been playing with it to work in the M30.
---
Rear curtain from the I35t (this car had the "t" on it). I never really paid attention, but when I saw it.. I wanted to see if it would fit/work on my M30. So I got the covering and the whole unit with motor. It definitely isn't a bolt on affair and the speakers need to be removed.
---
The last idea is to swap in a VH45DE.. I've been thinking about it so much. I wanted to match the OG V8 sedans that was VIP. Not only that, I wanted follow the foot steps of Project Leopard, in which it is basically being made as a new car. I won't got to the lengths of Project Leopard, but I figure make it a nice car.
The VH45DE would be kept AT as VIP cars were. I decided to go this route because I wanted a bit of power with the car. But this is way down the line.
---
That's the idea for now.