October 2016:
October 7th, Friday
Narita airport to Ueno station – Keisei Skyliner
Ueno station to Kanda station – Ginza Line
Kanda station to Akihabara station via Keihintohoku Line
October 8th, Saturday
Kanda station to Tokyo station – Yamanote line
Tokyo Station to Hiratsuka Station – Tokaido Main line (and back)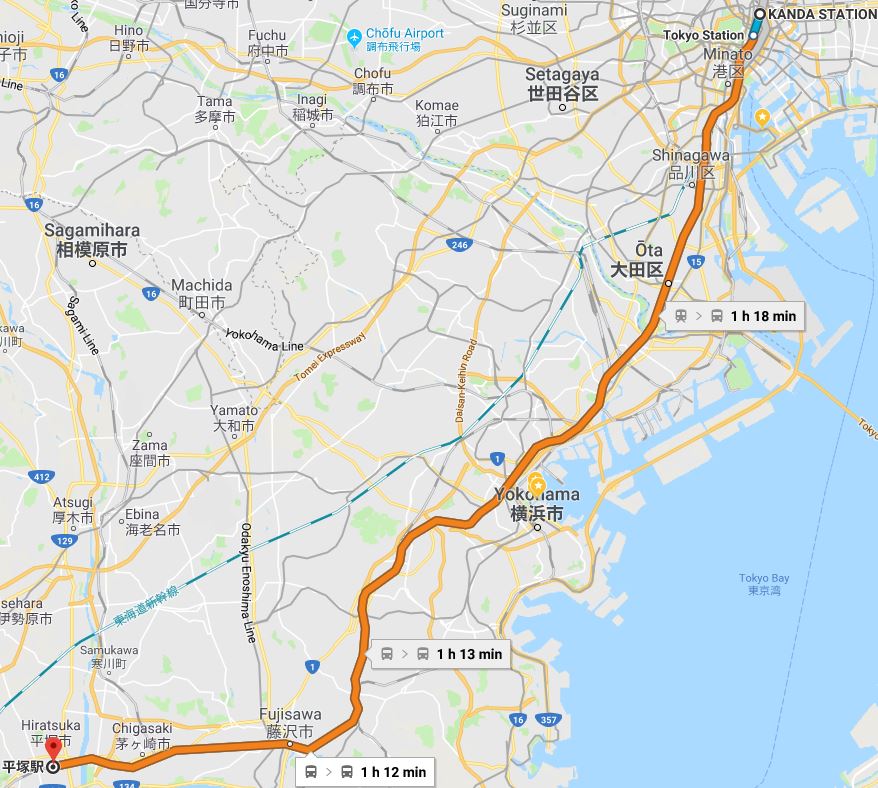 October 9th, Sunday
Tokyo to Hamamatsu Station – Shinkansen
October 10th, Monday
Hamamatsu station to Shin-Osaka station – Shinkansen
Shin-Osaka station to Osaka Station – JR Tokaido Sanyo line
Osaka station to Tanimachiyonchome Station – Tanimachi subway line
Morinomiya station > Osaka station/Umeda station – Osaka Loop line
Umeda station to Ikeda station – Hankyu-Takarazuka Line
Ikeda station to Osaka station – Hankyu-Takarazuka Line
Osaka station to Shinsaibashi station – Midosuji subway line


October 11th
Shinsaibashi station to Umeda station – Midosuji subway line
Shin Osaka to Kyoto station – Limited Express Thunderbird (and back)
October 12
Yotsubashi station to Nishi-Umeda station – Yotsubashi subway Line
Nishi-Umeda station/Osaka station to Kyoto station – Tokaido-Sanyo Line
Arashiyama station to Randen-Tejingawa station – Arashiyama line
Randen-Tejingawa station to Uzumasa-Tenjingawa station – walk
Uzumasa-Tenjingawa station to Karasuma Oike Station – Subway Tozai line
Karasuma Oike Station to Kyoto station – Subway Karasuma line
Kyoto station to Shin-Osaka station – Shinkansen
Shin-Osaka to Shinsaibashi – Midosuji line
Kyoto
At Arashiyama station, we explored Kimono Forest. It was late and we were tired from the long day in Kyoto. We covered many things and went from East to West Kyoto.
It was time to head back. I lost these pictures when I merged them on my computer and thought they were all the same (idiot move!). But we jumped on 3 systems to get back to JR Kyoto station.
Randen Arashiyama station is for the the Keifuku Randen tram system. The trams are Electric. The fare is a flat rate, I think of $2 or 220 yen. You can buy a ticket before or pay in change after.
These are historic and nostalgic since these are very few (I learned of only 2 tram lines left).
We started at Arashiyama station (A13) and needed to get Randen-Tenjingawa Station (A5).
Stock photo of Randen train
After getting off at Randen-Tejingawa station, it is a small walk to Uzumasa-Tenjingawa station (operated by Kyoto Municipal Subway). While the tram is street level, once you get off, you'll see a small building across the street that stands out because it is some kind of peach color. That is the subway entrance.
Here we boarded the Tozai line at Uzumasa-Tenjingawa Station (T17).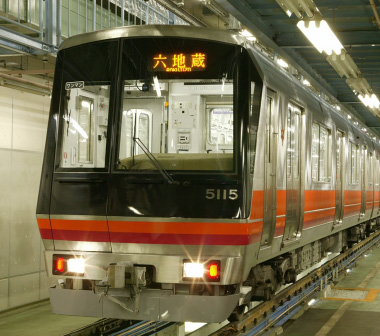 We would get off at Karasuma Oike Station (K8).
At this station, we would use the other subway train, Karasuma line.

October 13th
Shinjuku Station to Tokyo Skytree (Sobu Rapid line, Hanzomon line)
At Kinshicho station we changed to Hanzomon subway system.
At Oshiage station, short walk to Tokyo Skytree base
Skytree to Odaiba
Asakusa line > Keihintohoku Line > Rinkai line