Goals:
Gifu Station
Send out packages
R31 House
Nagoya station
Toyota Automobile Museum
Head to Sendai
So I woke up early (0600 am) and walked to Echigawa station. It is a local line using a small train. The station is small and is run by the Ohmi main line.
I took the Ohmi main line all the way to Maibara, where I jumped on the Tokaido Main line to Gifu Station.
The local post office was a few blocks away, but I wanted to send some stuff already. This took longer than I expected, about a good 1 hour, as I sent packages to friends and my family to off load some of the items I was carrying.
I then trekked back to Gifu Station and put my luggage in a 700 yen locker.
Now it was time to get to R31 House. I jumped on the Meitetsu-Kakamigahara Line, then Takayama main line and headed for Sakahogi station. There were no taxis at Sakahogi station, so I started to walk and look at my printed map.
Once I got near, I saw a bunch of R31 Skylines stacked on top of each other and another lot with them lined up. I knew I was close. Then I kept going forward and saw R31 House. I walked up and saw a mechanic. I talked to him for a bit. Later the Shibata san came out with someone who spoke good English. This was Suzuki san. I got full access to check out the area. Suzuki san gave me an in-depth knowledge of R31s and the cars that were there. Simply amazing. I was so overwhelmed with info, I had to repeat it in my head. Again, I thought I'd just take a few pix and spend 20 minutes, but this was almost a 2 hour deal and I loved every minute of it.
I saw some pretty awesome cars and some sad scenes too. To see and touch a Tommy Kaira M20 and M30 Skyline… is simply something I never thought I'd ever do. There was a clean wagon, with an RB26 in it. There was an 800 hp R31 Skyline there…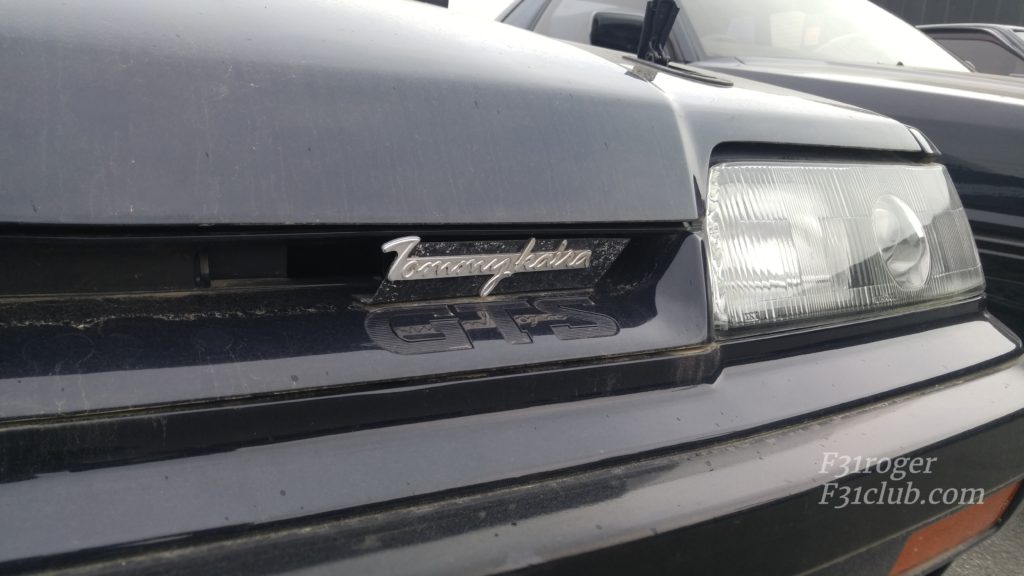 I was then taken to the parts car yard, which I saw earlier… Then I saw these:
A Diamante and to my surprise, a Zenki and Kouki leopard with some cool stuff on it!
I was also shown the Blue LHD R31 Resort Skyline, which was kinda in parts. But it is an Australian car.
It was getting late and I had to get back to the station. I asked if Suzuki san can call a taxi for me, but he said he would drop me off! Again, the hospitality was amazing and the shop was amazing!
UPDATE: 
---
I headed back to Gifu station to collect my luggage. I then jumped on the Meitetsu Hashima line to Gifu/Shin Hashima station, get on the Shinkansen to Nagoya. I was trying to get to the Toyota Automobile Museum, but I was running out of time and I thought to myself, maybe I should pass on it. Then again, I was going straight Sendai afterwards and had to meet nobody that night.
Once I got to Nagoya station, I stuffed my luggage again into the 700 yen lockers and asked to get to subway part of Nagoya station. I jumped on the Subway Higashiyama line for Fujigaoka station:
Then jump off the subway to the Linimo Line.
It started to rain, so I ran the whole way to the museum because I only had 30 minutes left til closing. I got in and the ladies upfront said they are closing soon. I told them I will only need that 30 minutes to take pictures. They asked me where I was from and I told them San Francisco. As I was pulling the money out, she handed me the ticket and said do not worry about it! WHAT!!!!
I thanked them and quickly hurried up to the 3rd floor where I was greeted by another lovely lady. She saw me wet and out of breath and walked with me and took my pictures. I was allowed to get close to the cars and even open the doors.
The truth is, I only came here for 2 reasons, To see the Estima and the 2000GT. Everything else was a bonus.
After the 2000GT picture, I started to take more pictures of the older cars. I will upload all the pictures, but for the sake of this post, this was what it was all about. The lady wanted to take a picture with me (I felt honored!!!)
UPDATE:
---
After that, I back tracked to Nagoya station and got my luggage and headed to Sendai. I took the Shinkansen to Tokyo and hopped on the Shinkansen to Sendai. I arrived around 1730pm (5pm) and checked into my hotel near Kokubuncho, one of those lively streets with food and bars.
I then went to get food and looked around. I was suppose to meet with the leopard owners in the area, but they were busy and it did not happen.
Plan A was to be about the people. Meet my friends and hang out.
But if that didn't work, initial Plan B, visiting shops other things around the area.