We woke and got breakfast around the corner. I had to get my Blendy! Oh how I miss Blendy!
We headed on the Chuo Subo line (we went to the subway first, but go pointed in the right direction) and took to Akihabara.
We got to Akihabara, but many things were closed. In fact there were HUGE LINES outside some of the stores. We went around, looking at the stores.
One thing I wanted to see was the hidden Shrine of Akihabara. I saw this on The Only in Japan Youtube channel. Please subscribe to the channel.. it is really good and I like John's content and how he presents it.
Unfortunately, Jacob and I went to this spot and walked in the alley and found out it the Hanabusa Shrine was closed.
Some of the stores opened up at 11:30, so we kept exploring.
We came upon Tam Tam and it was open. In retrospect, it was a good store. It had tons of car models. I figure there would be other places offering, but there wasn't as much.
I also didn't find another place that had tons of Tomica Vintage Limited Neo cars.. This place had a huge selection!!!
Thinking I could find some other places and with cheaper prices, we left and started to go to the other shops since they were opening up.
Stopped by Golden Age toys, Animate and Trader3.
Soon it was lunch and I just happen to walk by a "food truck set up". I chose Funny's Cafe not because it is American style, but because my son has food allergies and their foods were safe for him.
I noticed that the food trucks were next to a small conventional hall. Inside, I saw tons of kids and train stuff. I looked at the flyer and it was a Shinkansen Festival.
The tickets were about $16 for both of us. The 1st floor was vendors selling train toys and items. The 2nd floor was the rides and powered train control sets. But you have to purchase $10 worth of tickets. Not only was it about the trains, but the practice of being a conductor was a pretty interesting one. It was hands on for Jacob.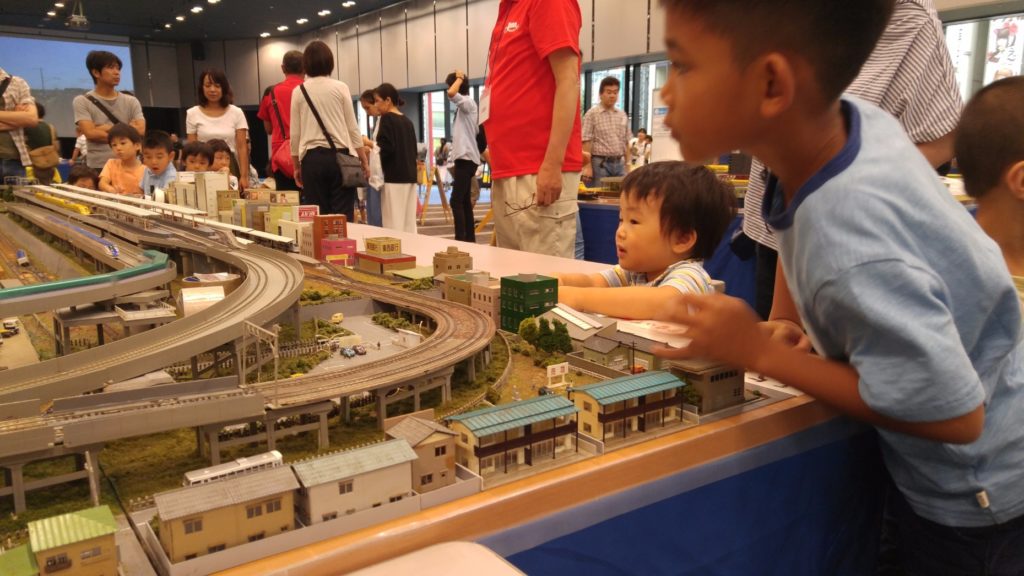 We step outside and I wonder what the next stop would be… then I look to my left and see it… Mandarake!!!! The toys I want to see are on the 8th floor. Seeing these (I've only uploaded a few pictures) displays of classic toys… I became a 5yr old again!!! Too many cool robots!!!
Okay, I had to get back to our mission. I didn't buy any of those cool toys…
We jumped on the Sobu Main Line and went to Ryogoku Station.
My goal was to see Ryōgoku Kokugikan and Sumo Museum. Unfortunately, the Sumo Museum was closed and there was NJ Wrestling going on!
After that failed attempted, I decided to go to Odaiba.
At Shimbashi station, we went to the new part of Shimbashi Station on the other side were the Yurikamome Line is set up.
We got to Daiba station. When I looked at the Yurikamome line going back… it was Tuna fish packed!
It was a Holiday and it was Friday… so it was busy. Aqua City was busy, but also Fuji TV building had an event going on too because it was loud over there.
While there, I wanted to check out Joypolis, but there was a massive line. Shonen Jump had something going on there as well.
We went to the Trick Art Museum. It was busy as well. I enjoyed it, but there was too many people and many people didn't move fast enough, and it was cramped… so you couldn't get the pictures good at times.
After that, we were getting tired. So we decided to head back to our place. I feared the Yurikamome line back would be busy and sure enough, it was. I didn't board the first one because it was packed, but the 2nd train was no different.
I have experience some train packing in Nagoya, but this was what you see and hear about. I was brushed up with people on all sides of my body. To make matters worse, the next station, more people got on!
Got on the Yamanote line and then on the Yurakucho line.
---
That night, we met with Kuze-san and Kyoko for dinner.