When Jim told me this car was hit last year, I was sad. He said he didn't want part out another vert (as he was in the process of dismantling one). I didn't even think about it, but offered to ask people if they need parts to contact Jim.
We then talked about it and I was like, "If you don't mind, I'll take it" and Jim replied, "Yeah, motor runs good and it drives straight". He even had a spare door for it!
When I picked up the M30 convertible.
---
As I was waiting for everything to be clear, I started to gather a few things for it.
That included a boot I found in the junkyard, climate control, Stagea cupholders, dash mat and door hinge pins for the most part.
---
While things didn't go my way as far as timeline goes, I didn't let that stop me from driving the car from Olympia to Vancouver BC and take pictures.
After my arrival to Vancouver BC and a late night photoshoot, I woke up the next day excited. I needed to physically look and assess my car.
So let's go down the list of problems:
1st. Most obvious, the driver's side door.
I kept thinking how I could take it off. If I can't have a body shop to do it, what would be my option? I could use a 10 ton Porta power hydraulic pump and push from the inside (definitely destroying the door card.
Where my hand is in the last picture of the door is the impact of the accident, pushing that area inward (window doesn't go all the way down, door doesn't open and when I open the fuse box located by the driver's knee, it hits the door card. This has also pushed the driver's side window outward.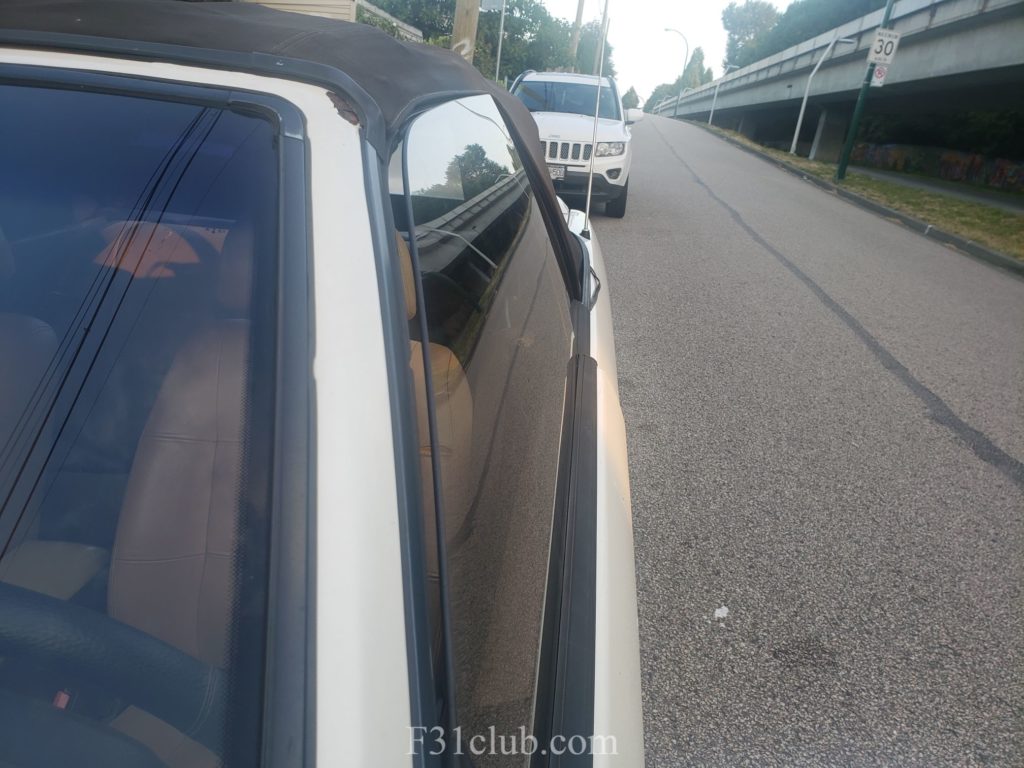 I thought about removing the fender (looks like I could actually save that piece) and undo the hinge bolts and see how that will let me take off the door. The only issue is that once I take it off, I don't know how tweaked the pillar between the fender and door is. I don't want to say it is damaged, but most likely a bit.
So I don't know door alignment.
2nd. I would need to change out stuff and put it into the used door I have. Example. The glass an be saved, the side mirror needs to be swapped to the other door and the most important part, changing key lock/door handle. While there, same as much of the door stuff such as speakers, window amp and others before tossing the door.
3rd. Key – I need to make a spare key (only 1 key available).
4th. Passenger's side key hole seems to be tough at times with key entry. WD40 first and see how that will loosen up the key and turning.
5th. While the trunk has a switch, it doesn't work. I have to use the key to open the trunk.
6th. Trunk shocks are not good anymore, either need to replace or rebuild.
7th. Tonneau cover – the fitment isn't perfect, but also missing 2 buttons (one on each side) that help hold down. There is a strip of Velcro in the middle wasn't good either.. so that will need to be replaced.
8th. Gas cap is missing, need to get one.
9th. Rust in the upper windshield frame – I started to scrap the rust off and realize that I need to get some fiberglass on the driver's side (deeper than I thought).
10th – Small crack on the bumper and passenger side need repaint
11th – Climate control lights up, but doesn't function. Jim told me about this, said it might be a resistor or something, I got another one anyway, but I do want to figure this out.
12th – Vert top back window is cloudy, definitely needs to be replaced (with stainless steel staples)
13th – There is slight misfiring, so a tune up needs to happen. Plugs, cap and rotor.
14th – seat button, passenger side vent.. the typical M30 stuff.
15th – rear quarter windows work, but I want to do some preventative maint on them. Maybe some lubricant on the tracks.
---
That is pretty much my main list of fixes I need to address, of course interior and repaint would be very nice.