So let's go over some quick updates. For a bit, wasn't much going. Now there is some traction. I'm working on a sub site dedicated to the build… but I'll make posts here every so often.
Project Leopard is in Arizona being worked on by Sakura Garage.
It's been there since May 2020, but recently has been getting towards the finish.
I went to Arizona in Feb 2021 and earlier this money May 2021
During those trips, I spent most of the time at Sakura Garage working on the car. Clearing up the engine bay totally took more time than I expected. But it gave me an opportunity to go deep into the M30's engine bay and see what I needed to redo/replace. The 2nd trip was really about taking the car apart even more. The biggest deal was the hood. Once Chuck figured out what to do, it broke down the process of blending even better. The current idea is painting the engine bay, trunk and door jambs and obviously the exterior of the car. The power steering rack needs to be rebuilt/replaced. Glass needs to be removed and while out, tinted. Besides the hood being messed with, Luke is doing the measurements for the radiator that I'm going to use (Koyorad) and an awesome touch, with I hope will happen, is that Future Fab touch Project Leopard. Greg has an RB25 at his shop with the Greddy Intake manifold. Greg's idea is to mount that all in, have Future Fab do the cutting in the engine bay (where battery used to be) and make charge pipes before he paints the engine bay.
This will extend Project Leopard's history to include Arizona, but not just AZ tuning… OG Arizona tuning!!! Sakura Garage, Ultra. Heaven and Future Fab.
These are the goals of that. LHD M30 with a zenki leopard face and Nismo influence.
Aero consists of the more aggressive Zenki front lip, F31 Leopard Piko Racing side skirts and West Yokohama rear valances for the F31 leopard.
---
Cooling
While the car is in Arizona, at some point the intercooler pipe routing might happen (again with Future Fab). Ultra Heaven has been also helping with measurements for the radiator. At some point, someone put in an S13 radiator as they made these DIY radiator support tabs on the bottom front. Ultra Heaven did some measurements of how it would mount if done properly.
Then got to see that fans are needed.
Other than that, I still want to take out the old heater core and have it either replaced or clean/inspected. Just to get it done and out the way.
---
Oil Cooler
One of my friends in Japan sent me his Trust oil cooler in great condition.. now I just need to order the oil filter relocation kit and lines.
---
RB25DET is at The SR20 Store
A couple weeks before going to Arizona, I was in LA for a weekend trip. I stopped by the SR20store and talked to Marco about the engine/car and the timeline. It's been sitting for a bit as he was waiting for the car to come back. Obviously the car hasn't come back and so the engine became put on the back burner. This gave me time to finally look at what I need to do.
Full recap:
Engine was blown with #6 ring land bad. At that point, I decided to rebuild the whole engine. I would also address the oil issues that RBs have.
Engine and head work done at machine shop.
Head rebuilt with Tomei valve springs and components.
Crank machined with extended crank collar.
Engine internals with CP pistons, new bearings… etc.
ARP everything
Franklin Engineering head drain kit with new oil pan with welded bung.
Greddy Intake with Boost Doc water inlet insert (Greddy intake needs to be media blasted)
Tomei MX8265 RB25det upgraded turbo
New N1/Nismo Oil and water pump
PRP R35 coil pack set
Wiring Specialties RB25det harness
Wiring Specialties 5 point grounding kit
PRP LS alternator adapter brackets
A few more recent things that happened was that since the motor wasn't completed as I thought it was, I decided to get Tomei Poncams, Tomei fuel Pressure regulator and Tomei adapter.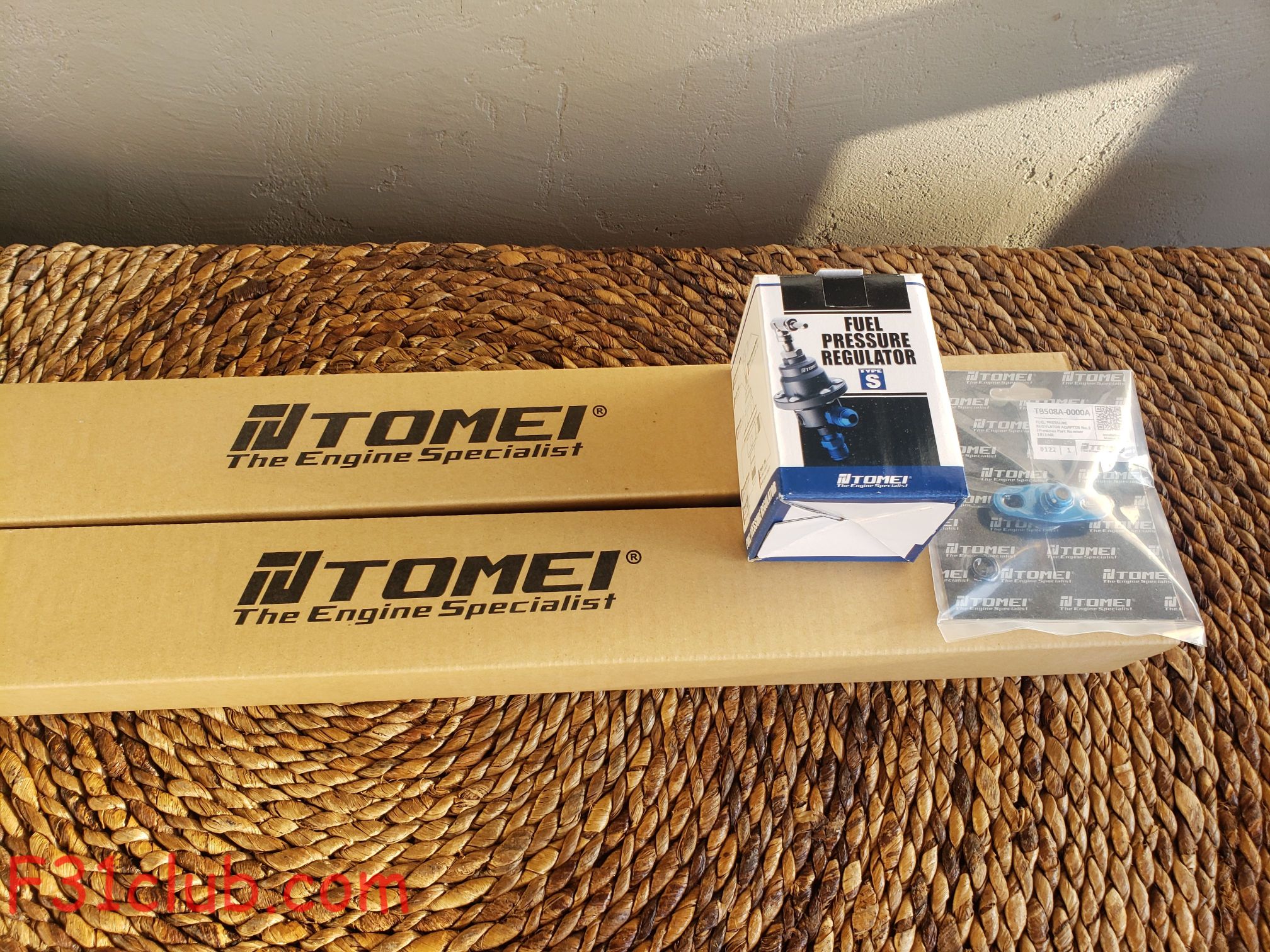 The other thing was my idea of dealing with heat. Marco wanted to use the stock exhaust manifold because it is cast iron. I really wanted to contain the heat and I thought I would wrap the exhaust manifold with heat wrap. But I decided to look into getting thermo ceramic coated… Hung found a shop that offers it and I had the exhaust manifold and heat shields done in Chromex finish.
Last was recent buy was an Optima battery. One of the previous owners located the battery to the back of the rear wheel well, where the spare tire would go. It was set up pretty horribly. Just drilled 2 holes and put battery tie down rods through. No platform to set the battery. It also looked like a battery exploded at some point with damage to that corner of the car. Greg wanted to keep the battery relocated and wanted to use the engine spot to cut for the charge pipe.
I've been gathering small components here and there, but I stopped by Pep Boys and they were like closing down.. so everything was 50% off.. I saw an Optima battery.. bought it and got a 3yr warranty. I will do a proper battery relocation set up.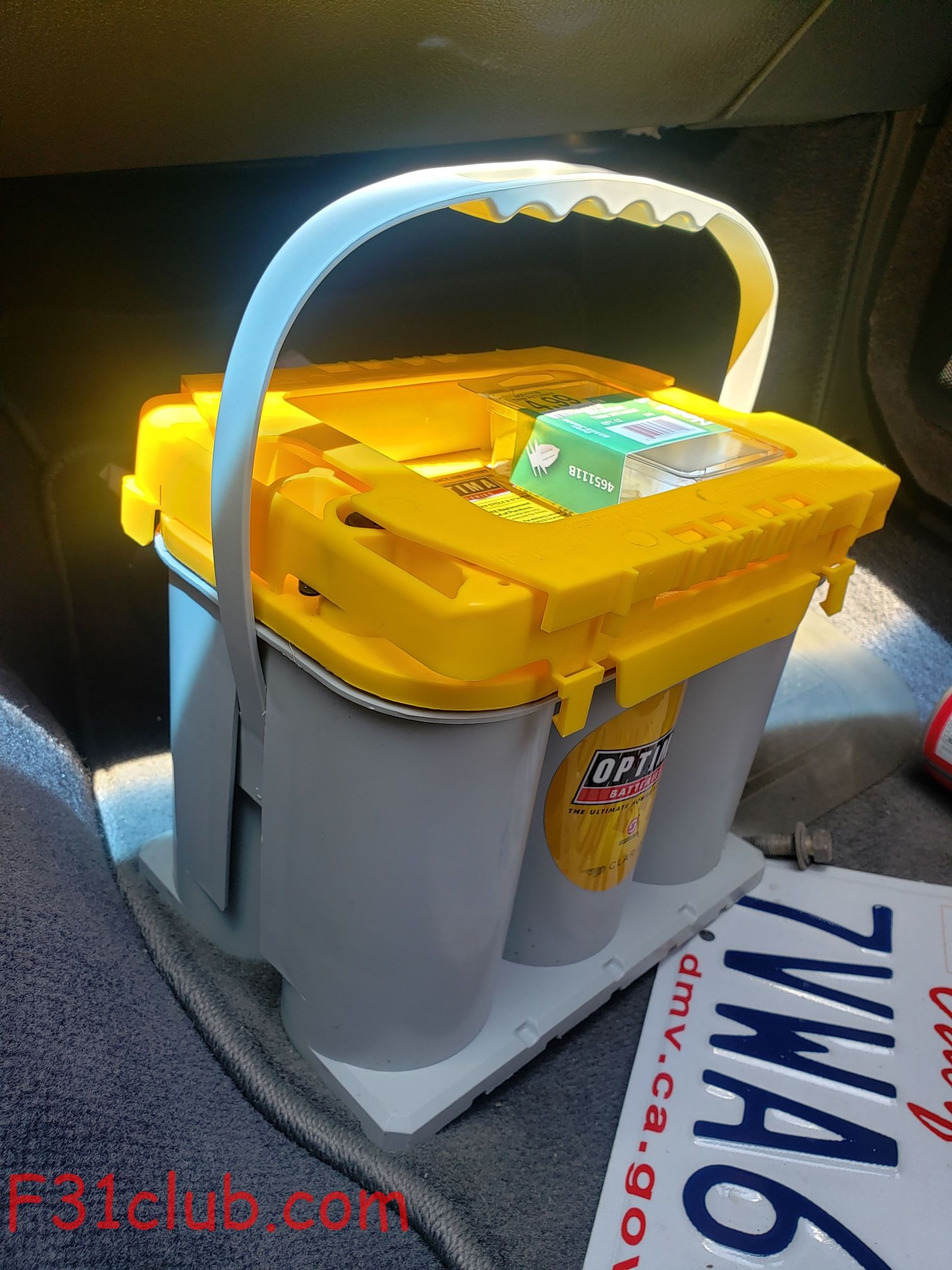 ---
Interior
I am happy to have taken cared of the dash, rear seats and some panels.
The to do list though:
Thrash Racing White leopard seat
Interior trim painted
R31 Door cars (on the next container, arrival end of summer).
Zenki center arm rest fiberglass together
---
Electronics
Bucky is working on the digital cluster (says he is replacing a lot of the stuff) and possibly making the harness. I still got a lot of pieces I need to put together. An interior harness definitely needs to be made for all the electronics.
I have almost all the stuff I need for the interior. I will need to get an A/F ratio gauge.
Old HKS items (probably some for looks)
Defi BF gauges
Yashio Factory water sprayer (with tank) and water temp monitor
Sard Attack meter
Pivot Mini shift lamp, KM reader, VCAPA and Raizen
Razo MT gear indicator
Bucky working on the F31 digital gauge cluster.
Wiring Specialties harness and 5 point grounding harness.
---
Wheels and Tires
Enkei RP01 in 16″
Probably need some spacers.
I believe this car was originally a Falken booth car too… So I will go with Falken for these.
---
Suspension
Still running the BC Coilovers. There is an extended 240sx LCA and Voodoo13 tension rods. I will change the LCAs for new OEM ones.
I definitely will change out the suspension for Tein or maybe a custom Stance coilover set up.
---
Exhaust
Like the suspension.. this will be during the final stages.
I didn't have a Syko Elbow with Project Leopard. I don't know if it is being used ( I think it is), but I would like to get a new one anyway. Marco said Syko has one available.
The other piece that I didn't have was the SR20 Downpipe they used in the swap. I found one locally for $60. Rough used, but intact. Then Cameron (previous owner) found the original pipe and said I could pick it up next time. I do want it polished and cleaned up.
The exhaust will be down the line.. but it it will be 5 Zigen, Tanabe, Blitz or HKS axle back.
---
Chase Bays
After taking everything apart, I'll be upgrading with Chase Bay's Fuel line upgrade, Power Steering kit and brake line kits.
---
It's insane to be at a level of upgrading everything and getting this car together theoretically would be awesome.
We shall see how it plays out.
---
Of course the intersection of Projects happened when the Diana kit arrived!